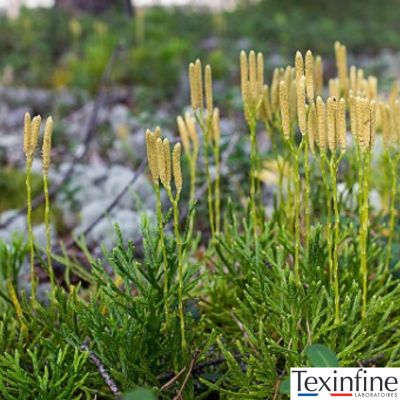 LATIN NAME
Lycopodium clavatum
COMMON NAME
Common club moss, Lycopode officinal, foot/leg or wolf claw.
HABITAT
Europe, Asia, Cape Town, America, Australia, French Polynesia.

EXTRACT FROM LYCOPODIUM CLAVATUM, For women comfort.
The clubmoss or wolf claw (Lycopodium clavatum) belongs to the Lycopodiaceae family.
This herbaceous plant is found in heathlands and wetlands as well as on the edge of forests. It has a long creeping stem (up to 1 m long) as well as spaced but narrow and short upright leafy branches of about 0.5 cm.
This palant is particularly used for its therapeutic benefits and is recognized for maintaining good feminine comfort before and during the menstrual cycle. During a menstrual cycle (menstruation), 30% to 50% of women suffer from discomfort such as abdominal pain, cramps, in tje lower abdomen, increased fatigue, headaches or nausea.